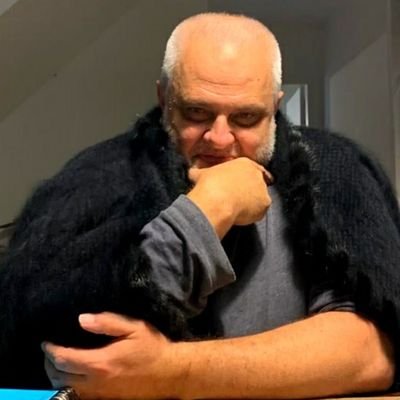 Artist Paulo Sayeg
Winner of the 1987 APCA award for best designer.
I am delighted to present the debut issue of Dreadnought SF, Summer 2023, featuring the magnificent cover art of Paulo Sayeg! The piece is titled Esmeralda.
Paulo is the featured artist for the third issue of The Starlight SciFaiku Review, Spring 2023. Read the special feature there and revel in his artistic tour de force in that issue, as in this issue!
About a year ago, Paulo and I followed each other on Twitter. In the months since, I have had the pleasure and privilege to become familiar with Paulo's extraordinary, largely figurative art, a tremendous body of gorgeous and immersive work, swirling with creative energies, spiked with wizardry, powerfully enriched with cultural themes, and spanning genres from magical realism to science fiction. Paulo's style is vibrantly unique. Captivating. Haunting. And utterly unforgettable.
Discovering Paulo's art has been a splendid development for this publishing house and its readers!
Paulo was born in 1960, in São Paulo, Brazil and has been involved with art since a child, learning painting and lithography from his uncle, Alberto Garutti. At 22-years-old, Paulo presented a solo exhibition, the first of many, both domestically and internationally. Paulo continues to live in São Paulo, where he works in illustration, animation, visual programming and advertising.
In 1987, the São Paulo Association of Art Critics (APCA) recognized Paulo with the award for best designer. APCA was established in 1956 and celebrates the best in the Brazilian fields of stage acting, music, literature, film, television, plastic arts, and radio.
Paulo's work encompasses breathtaking pieces created with luxurious colors that enchant the eye and cast a spell over the mind. Paulo has been creating art for many decades now and I look forward to presenting much more of his work in the future.
Visit the Wikipedia page about Paulo, for more details. Paulo regularly posts images of his art via his Twitter account, @sayeg1960, and you will find his work on numerous art websites.
I highly encourage you to explore more of Paulo's magnificent art!
The Editor