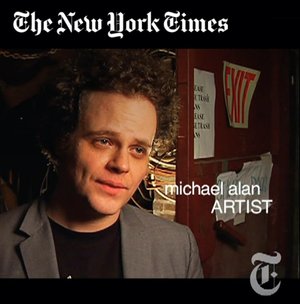 ---
I am simply elated to announce that Michael Alan Alien will be providing the cover art for the debut issue of The Space Cadet Science Fiction Review and a feature interview! Michael is genuinely a class act, a real human being in the best possible sense — maybe that's why he's the "Alien."
Michael creates amazing art, is the owner of a truly inspirational life story, and seems to be the human equivalent of a New York City-approved nuclear reactor in his capacity to generate energy — both creative and positive. I actually find it difficult to fully comprehend the sustained, preternaturally high level of creative energy that Michael is able to channel into producing such a staggering output of artwork. The ability to generate and harness that kind of creative energy is the universal hallmark of extraordinary artists throughout history.
Viewing Michael's artwork is an immediately immersive interaction with wildly energetic lines tracing the roiling surface tension of chaos, ballistic pointillism, antigravity splashes of paint, and Ayahuasca colors producing a coherence of such mesmerizing visual imagery that one may have to ask for help in extricating themselves from the art.
Michael's message to everyone and his sacred mission in this carnival-ride world is driven by that aforementioned positive energy: Living life to its fullest through the creation of art and being a truly supportive force for others in their respective artistic spaces.
I tend to see things through a science fiction lens, and while Michael's body of work cannot be categorized as science fiction art per se and nor is that his focus, some pieces certainly intersect that realm — and quite splendidly so! In fact, Michael's involvement in The Space Cadet Science Fiction Review can be traced back to his painting, the Green Guy. When I saw the painting in a Twitter post, the landscape of my mind was instantly illuminated with science fiction fireworks! Just tremendous. Seeing that painting set things in motion and now here we are.
Thank you, Michael and thank you, Green Guy!
No agreements are in place for Starship Sloane to splash Michael's art around on this page — although we received permission to use the above images directly from his website to help in promoting all of this — so the following links are provided for you to begin, or continue, your enjoyment and exploration of the perfectly stunning world that is Michael's artwork.
OpenSea Michael Alan Alien verified NFT drop
Stay tuned.
Yours truly,
Justin T. O'Conor Sloane
Editor