69. SPECIAL FEATURE: Art by Rodney Matthews
---
Elric at the End of Time: Encore at the End of Time [audience detail] by Rodney Matthews
---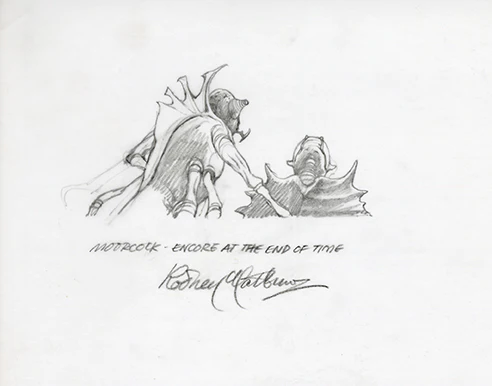 ---
Editor's Note: Rodney and Michael Moorcock collaborated in creating the book, Elric at the End of Time — a masterpiece of fantasy, with Rodney providing the artwork. This preliminary sketch, a delightful detail of audience members, is from the much larger piece titled, Encore at the End of Time. I encourage you to take a look at the spectacular finished piece in full color at Rodney's website, Rodney Matthews Studios. It really is great fun to see the two creatures presented here, enjoying the show together, in the final version.
English comedian, actor, writer and producer John Cleese is a friend of Rodney's and an avid collector of his work. In turn, I am also a big fan of John Cleese. I grew up watching Monty Python, both the sketch comedy and the films, as well as Fawlty Towers, on PBS, plus his many other movies, like A Fish Called Wanda.
Here are the Wikipedia and ISFDB pages about Rodney.
---